Aprilaire Model 700M Humidifier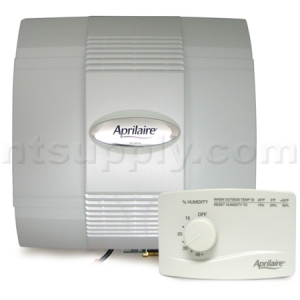 Click to Zoom
Click here to see all parts for the Aprilaire model 700M humidifier
The Model 700M power humidifier features a manual humidistat control for ease of installation. It is also designed with ease of service in mind. Complementing any HVAC system, the 700 has an evaporation capacity of 0.75 gallons per hour, among the highest capacity humidifiers sold. If you own a larger home and want the best, then this may be the humidifier for you, as it will handle up to 4,200 square feet if your home is tight in construction. Plenum opening size is 14 7/8" W x 14 3/16" H. Because this powered unit does not require extra bypass ductwork - it can be easily installed where space is at a premium.

Note: The model 700M is not suited for systems with horizontal air flow.

Included with unit:
1 installed # 35 Water Panel
Self-piercing saddle valve
# 4655 manual humidistat
24VAC Transformer
Installation instructions/plenum cut-out template
Owners Manual
Humidifier installation will require the following supplies (not included):
#8 sheet metal screws
1/4" copper water line
1/2" ID clear vinyl tubing for drain
Small wire nuts
18-2 thermostat wire
If furnace circuit board does not include humidifier accessory terminals - a Aprilaire #50 Current Sensing Relay will be needed.
FREQUENTLY ASKED QUESTIONS:
What is the difference between the 700A and 700M models?

The new 700M model includes a manual humidistat control and DOES NOT include the automatic control, extra water panel, DVD, or bonus weather station.
How often should I replace the water panel?
For the best performance we recommend the water panel on most of our humidifiers be replaced once a year, either prior to the start of or at the end of the heating season. (Model 400 should be changed twice during the heating season.)
Why is there water draining from my humidifier?
All of the Aprilaire flow-through humidifiers incorporate a self-flushing action. This action flushes down the drain many of the mineral deposits left on the water panel from the evaporation process. This also minimizes the amount of maintenance required
How much water should be flowing out the drain of my humidifier?
The water going out the drain line serves the important process of flushing the minerals from the water panel. Depending on the model that you have in your home, it should take two and a half to five minutes to fill a one-quart jar. The actual time is determined by the water-metering orifice in your humidifier. If your humidifier has a yellow or white orifice it will take approximately five minutes to fill a quart jar and if it has a blue or red orifice it will take approximately two and a half minutes to fill a quart jar.
Should I regulate the water flow to my humidifier at the saddle valve?
No. The saddle valve is not designed to regulate the water flow. The humidifier has a water-metering orifice that is designed to regulate the water flow to the water panel.
Should our humidifier be connected with hot or cold water?
All of our flow-through units as well as our Model 400 humidifier can be connected to hot or cold water. Hot water increases the evaporative capacity of your humidifier, provides more humidity to the home and offers more flexibility in the operation of the humidifier. We would recommend that if our power units are installed on the return ductwork, that they be connected to hot water, as this is their only heat source. With any drain-through Aprilaire humidifier connected to hot water, the heat in the water is used in the evaporation process and the water coming out of the drain will be cold to the touch.
Should we use soft water or hard water?
Aprilaire offers total flexibility in the installation of our humidifiers in that they will operate properly with either hard or soft water. Connecting to hard water may leave mineral deposits on the water panel that are scaly and hard in nature. Connecting to soft water may leave mineral deposits that are fluffier in nature. The bottom line is the water panel will typically last a full heating season using either type of water.
Should the humidifier be installed on the return (cold air) or on the supply (hot air) ductwork?
Any of our furnace-mounted units can be installed on either the cold air or hot air ductwork. We do recommend that if a power unit (#700) is used and is installed on the cold air ductwork, it be connected to hot water to maximize evaporation.
Will my Aprilaire Humidifier affect my Aprilaire Air Cleaner?
The Aprilaire humidifier uses a natural evaporation process to generate humidity. Because the humidity is a gas it passes through any air cleaner with no adverse effects.
What causes condensation on my windows and how can I eliminate it?
Cold air outside your window cools the air just inside your window more that the air in the rest of the room. If the well-humidified air just inside the window cools too much or too quickly, it can't hold as much moisture as before and water appears on the window. To eliminate this, follow the suggested settings on your manual humidistat and adjust the setting in the morning for the anticipated nighttime low temperature. Another option is to upgrade your manual humidistat to an automatic humidifier control (#58), which always maintains proper levels of humidity with no adjustment needed.
Can my Aprilaire Humidifier be upgraded to operate automatically
Yes, any furnace mount Aprilaire Humidifier including models that are no longer a part of our current product offering can be upgraded to fully automatic operation with the installation of the #58 Humidifier Control. You will receive up to 50% more humidity compared to a manual humidistat which means your home is more comfortable. Your Aprilaire dealer can install this component for you and you can enjoy fully automatic operation, just set it and forget it!
How do I properly install my replacement Aprilaire Water Panel?
The orientation of your water panel is important for maximum evaporation. Most genuine Aprilaire Replacement Water Panels you purchase will have a paint dot on one of the short ends. This paint dot should be placed up, towards the water distribution tray, for proper operation. If your humidifiers requires the #45 water panel, there will be no paint dot and the panel can be installed in either orientation.
5-Year Manufacturer's Warranty
Reviewer Profile:
Homeowner (5)
Comments about Aprilaire Model 700M Humidifier:
I bought the Aprilaire Model 700 to replace a 14 year old Model 760. It was a perfect match, easy to install, and aligned with the plenum opening and water hook up. However, the Model 700 has a external 24V transformer that must be wired in to make the humidifier function. The directions included are not completely clear but I called the Aprilaire customer service number, got a very knowledgeable rep, who not only explained what needed to be done but e-mailed me a simple wiring schematic!
Great product, great support, and works great too!
Adjustable Settings
Easy To Use
Lightweight
Quiet
Comments about Aprilaire Model 700M Humidifier:
I would recommend this product very highly.
Comments about Aprilaire Model 700M Humidifier:
I was not pleased that the 24 volt power supply went from internal (on the 700 model humidifier being replaced) to external (from the furnace) on the 760. It caused me to hire it wired to aleviate voiding my furnace warranty. I wish I understood why (other than cheaper to manufacture and a $100 extra to install). Cant say Im happy with this!
Comments about Aprilaire Model 700M Humidifier:
in heating system for entire home
Comments about Aprilaire Model 700M Humidifier:
[...] Once I followed the instructions, unit was working in minutes. The transformer supplied by Aprilaire has no mounting bracket - I had to create one out of a copper pipe strap.