Aprilaire #35 Water Panel Evaporator, 10-Pack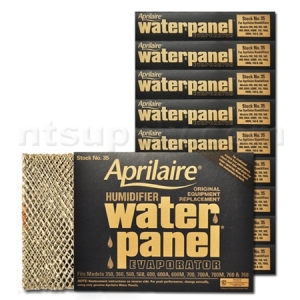 Click to Zoom
Aprilaire #35 Humidifier Water Panel - (10-Pack)

The "heart" of your whole-house humidifier, the Water Panel (also known as humidifier filter, water pad, evaporator pad), should be changed at least once per heating season. The pad is constructed of an expanded aluminum honeycomb mesh that is dipped in a clay coating. This coating is able to absorb and hold water. Warm, dry air is forced through the wet pad to introduce water vapor into the home.

Product Features:

Factory original OEM part
Dimensions approximately -

10" x 13" x 1-1/2"

Pad change instructions are printed on product carton
Fits the Following Humidifiers:

Aprilaire

350

Aprilaire

360

Aprilaire

560

Aprilaire

560A

Aprilaire

568

Aprilaire

600

Aprilaire

700

Aprilaire

760

Aprilaire

760A

Aprilaire 768
Humidifier water panels (sometimes referred to as a filter) are a regular replacement item in whole-house humidifiers. For the best performance we recommend that the Water Panel be replaced once a year, either prior to the start or at the end of the heating season. If you have especially hard water - the panel can be replaced 2 times per year.
Merchant Services
AprilaireHumidifierParts.com Price:
$85.00
Case of 10 Water Panels, $8.50 each
Availability: In Stock
Good size/fit (5)
Durable (3)
Energy efficient (3)
Whole house humidifiers (6)
Dry winter (4)
Reviewer Profile:
Homeowner (11), Avid do-it-yourselfer (3)
Durable
Energy Efficient
Good Fit
Long Lasting
Made For Myhumidifier
We change our filters once a month. This company did not gouge on the price and the filters are exactly the ones the humidifier requires. Excellent quick service.
These were the BRAND NAME Aprilaire items, not a generic and were significantly less expensive than Aprilaire sells them for.
I bought these for a 6 month old humidifier and when I opened the box it looked like the one currently installed meaning it wasnt dirty, that's the way it looks. I am not sure what the coating on these things is, but it's not lime or something bad like I thought it might be. Experts may know this, but as a homeowner I did not.
Exact replacement
Great price
The Aprilaire Humidifier is a good piece of equipment, but they want [$] for their water panels. Granted, [$] a year isn't exactly expensive when you consider that calling a serviceman will start at $85 just to have him show up. But I took a look around for a better deal and quickly turned up IAQ and a few other places.Reading through descriptions, I saw that several places were substituting generic replacement parts and comments mentioned problems with fitment, the panels not functioning properly, and other issues.But the panels I received from IAQ are genuine Aprilaire replacement parts - exactly the same ones I was buying direct for over twice as much. [...] I'm set for the next decade.Hopefully IAQ will still be around in 2021 when I have to order more!
Great fit. Much better than the HD after market variety which is not durable and doesn't last. Price for the case pack is excellent. [...]
Durable
Energy Efficient
Good Fit
Long Lasting
With the hard water here in south-west texas I need to replace every 6 months. Salt build-up!
We use this product as replacement filters for our whole house humidifer
I bought 10 at a time for only about [$] each and I will change them once a year in the fall. I tried cleaning the original, what a mess just replace it and be done with it and i've got 9 years to go.
I have a few years supply now for my Aprilaire humdifier, much cheaper than the hardware store.